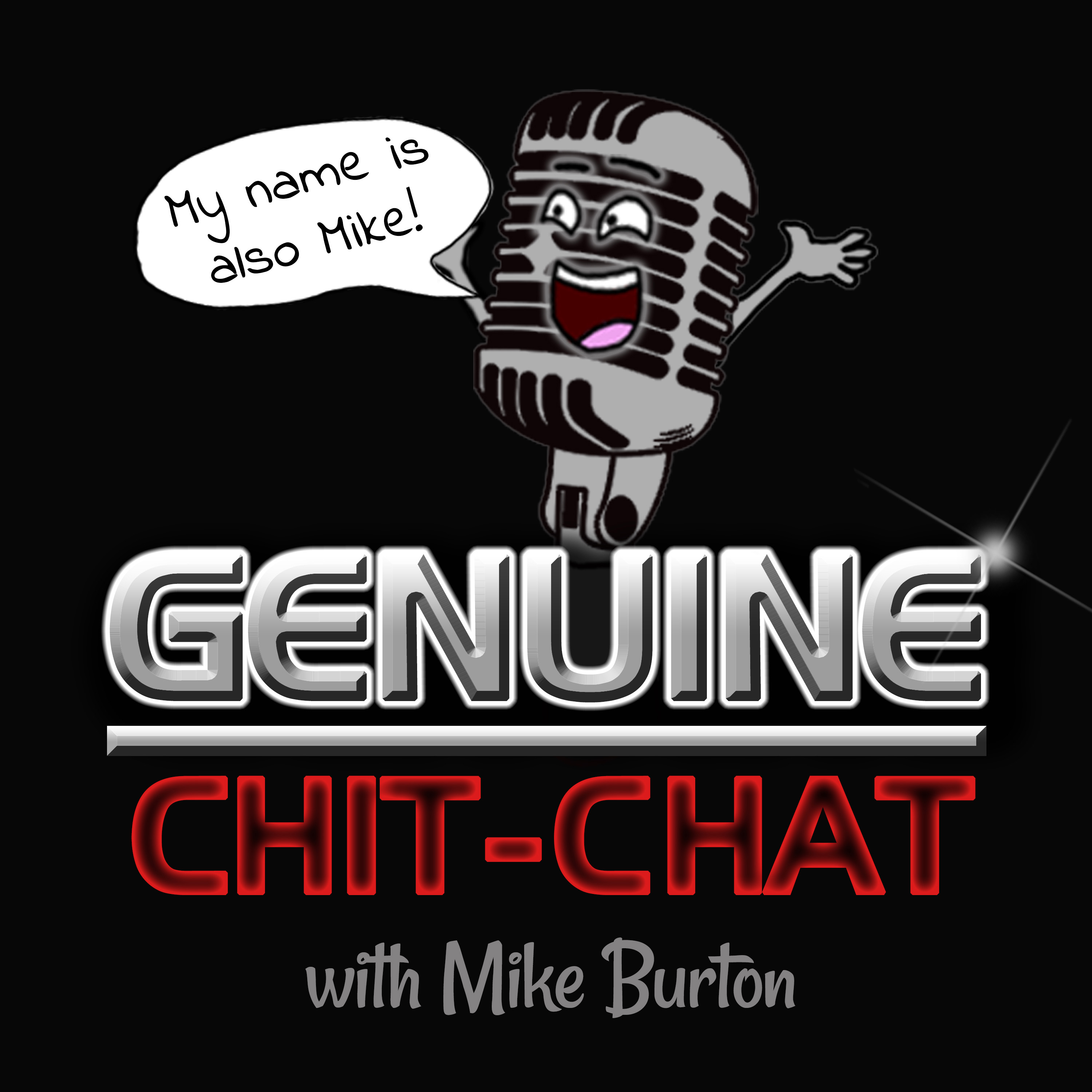 A weekly podcast hosted by Mike Burton where he searches for interesting guests across the world, having "Honest Conversations With Interesting People"! With every podcast being something different, there's no reason not to tune in, with guests, ranging from filmmakers, authors, musicians & travellers, to fellow podcasters, actors, creatives, experts in a variety of fields and everyone in-between! No subject is off limits, so take your pick at the huge back catalogue and dig in to some Genuine Chit-Chat!
Episodes
Sunday Dec 04, 2022
Sunday Dec 04, 2022
Frank returns for his fifth GCC appearance, to talk about writing a book during, that is also set in, the UK COVID lockdown, plus alternate versions of celebrities, the Ragbag world and answering the question; What Is Brollywood?
This week, in part 2, the duo discuss celebrities appearing in Brollywood in more depth, including Benedict Cumberbatch & "famous-man-who-cannot-be-named-for-legal-reasons, with Frank explaining how he wrote them in the way that he did and why. Frank & Mike then go on a tangent about the footnotes section of the audiobook of Brollywood which includes people who leave reviews for service stations, celebrities starting podcasts, becoming famous, Frank's future projects and so much more!
Last week was part 1 of Frank & Mike's conversation where their conversation starts by discussing Frank's 4-part podcast series called Not On Top with David Ivar of the band Herman Dune, before delving into the meta subject of being interviewed as an author, before explaining the premise of his latest book Brollywood and talking about writing a book during COVID that is also set in the UK at a time of the lockdown restrictions. Part 1 comes to a close as the duo discuss the celebrity appearances in Brollywood.
Find Frank on social media @RagbagPresents and @RagbagRambler
Frank's Site: http://www.frankburton.co.uk – Listen to the audio version of Brollywood (for free) on Ragbag Presents here: https://spoti.fi/3GToZ47 or buy the physical Brollywood book here: https://amzn.to/3u4WwRb
Frank mentioned his appearance on Hannah's Bookshelf when he was promoting one of his older books; The One Hundred (found here: https://bit.ly/3F8Ms08), he also mentioned Jarvis Cocker's autobiography called Good Pop, Bad Pop.
Frank's previous appearances on GCC are episodes 34, 56, 86 & 144!
Mike appeared on episode 76 the Ragbag podcast: http://spoti.fi/3aLgx5e, and on S1, episode 16 Frank Burton's I Like The Sound podcast: https://spoti.fi/3ue8ma3 and on S2 ep 1: https://pod.fo/e/143cf0
The last episode of GCC (177) was the fourth instalment of Disney Discussions, with Megan hosting to talk Disney/Pixar Péliculas (movies in Spanish)! Tune in to hear Megan, Mike, Ria & Spider-Dan talk UP, Inside Out, Wall-E & Coco, discussing how they compare, common themes among them, why they're the squad's respective favourites and much more! Megan also provides several easter eggs in Coco and gives a little Mexican-culture lesson too!
Check out Mike's Patreon, where he releases at least 1 episode of his & Megan's "Afterthoughts" a week (with over 100 out), plus there are unsplit full-length episodes of GCC and more, so if you want to support the show and get more content, check it out at http://patreon.com/genuinechitchat    
To hear to a free Patreon episode, check out the first in Mike & Megan's Tom Hanks watch here: https://bit.ly/TomHanks1  
Find Mike's other show; Star Wars: Comics In Canon on Spotify & the other podcast apps on the feed of Comics In Motion or on GCC's YouTube channel. Episodes are out every Saturday; episodes 0-114 are out now, in ep 114, Mike delved into the 5 Bounty Hunters comics after Crimson Reign, in 113 Mike tackled the 5 Starlight short stories and for 112 Mike went into the third & final batch of horror anthology stories from Vader's Castle! Previous episodes include the War Of The Bounty Hunters crossover (all 34 tie-in issues), every other canon Star Wars comic by Marvel, the Journals of Old Ben Kenobi, full High Republic coverage (book reviews & comics) & much moree - https://podfollow.com/comicsinmotion    
Mike's guest spots:
Comics In Motion to talk about the finale of the Star Wars show Andor series here: https://pod.fo/e/151fa9
Comics In Motion (again) to talk about the Tales Of The Jedi animated series here: https://pod.fo/e/152525
Ike's Flame podcast to talk about The High Republic here: https://pod.fo/e/143ce4
Instagram – Twitter – Facebook – YouTube – Stitcher – Podbean – Spotify