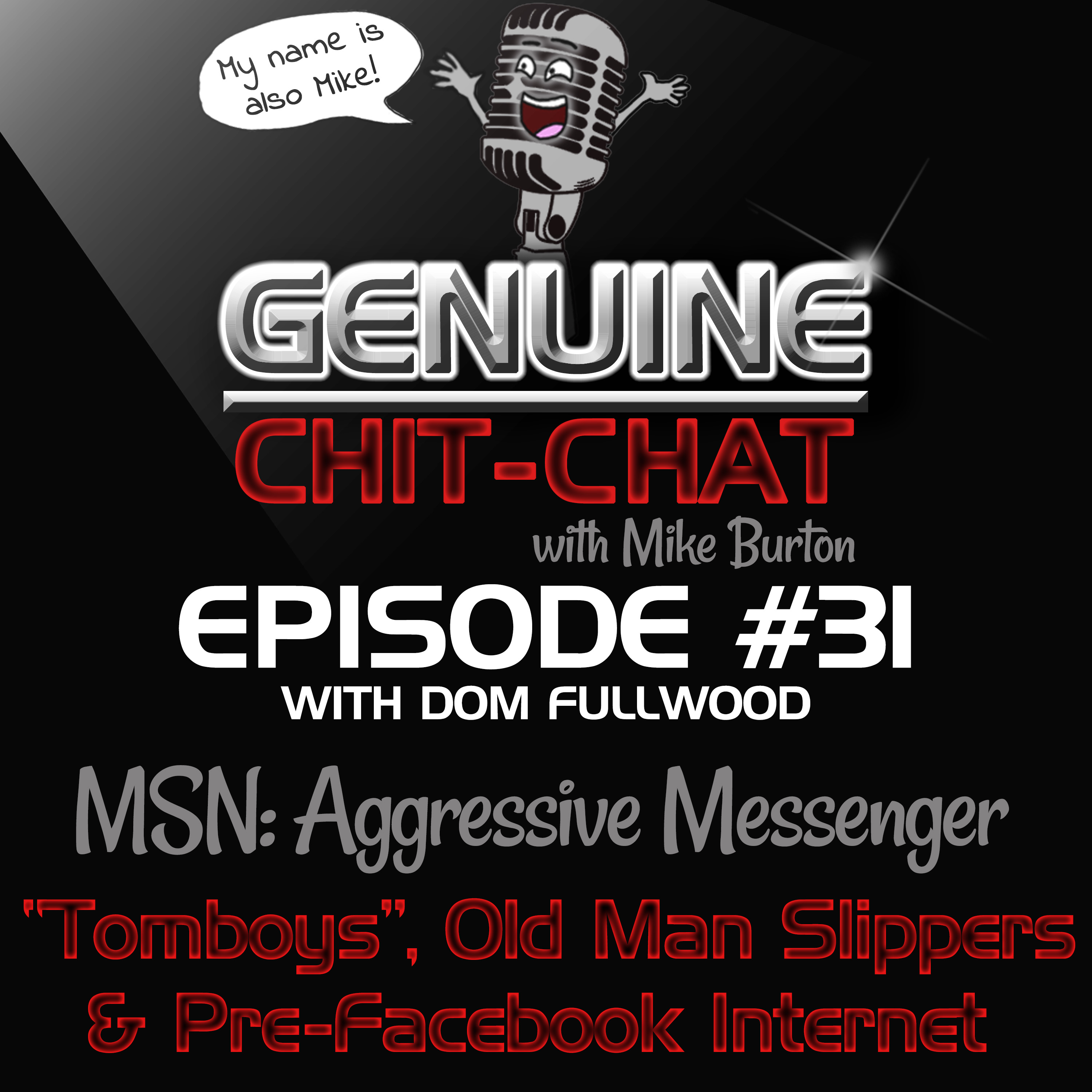 #31 - MSN: Aggressive Messenger: "Tomboys", Old Man Slippers & Pre -Facebook Internet With Dom Fullwood
Aug 19th, 2018 by genuinechitchat
This week's chat is all over the place in all the right ways – there's no specific genre or topic; just two dudes having a discussion about this, that & everything, including how apparently great it is to drive barefoot?
Dom is the returning guest this week, with a conversation that doesn't stop bouncing from subject to subject – listing everything would take far too long (and would be dull to read) but a few notable topics were language & the differences between UK-English and American-English, how hard it is for our generation to buy property, the younger generation and the internet days just-before Facebook.
As well as the above, men's outfits, clothing and shoes are discussed in a surprising amount of detail, the differences we found in school between boys & girls (including the term "Tomboy"), pizza, dog names and Dom's great advice "opening a window is free" – these and more are all discussed this week!
Next week Dom is back again, but it'll be for a more specific discussion about politics, especially discussing Brexit, the left & the right and how we must find balance between them, the "ideal world" and much more!
Promo by Suck My Fic 
Last week was a two-part gaming chat with Josh & Rhys as guests, talking about some of the games they have loved and some of the issues with today's gaming industry – one to definitely check out for the videogamers among you!
Genuine Chit-Chat is now a part of the Brit Pod Scene, so be sure to check out the other members of the family as well as the BPS podcast – www.britpodscene.com
Instagram – Twitter – Facebook – YouTube – Stitcher - Podbean - Spotify
You can also email us at GenuineChitChat@outlook.com with any reviews, comments or suggestions.
Share
|
Download(

Loading

)