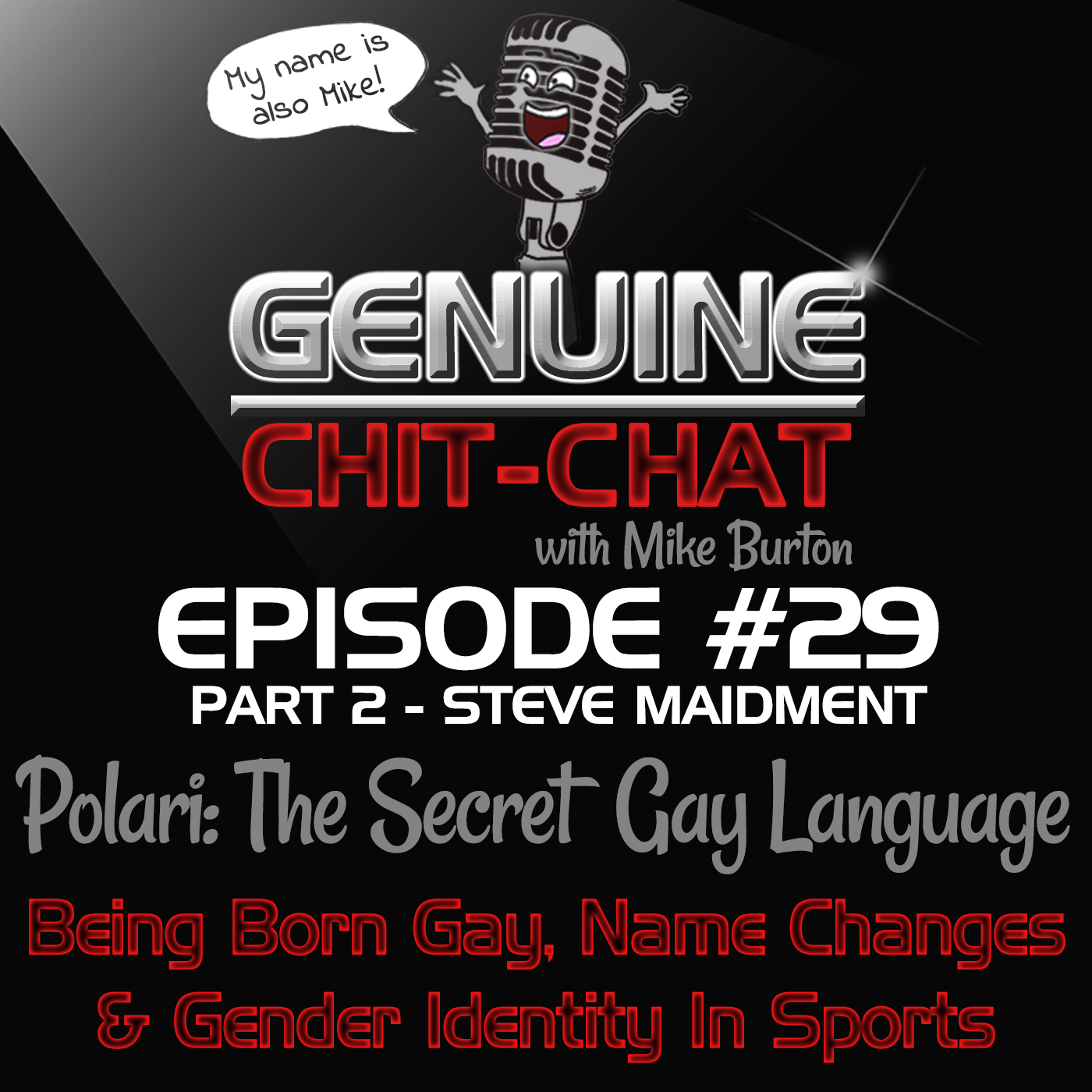 #29 Pt 2 - Polari: The Secret Gay Language - Being Born Gay, Name Changes & Gender Identity In Sports With Steve Maidment
Jul 29th, 2018 by genuinechitchat
This week Mike continues his chat with his friend Steve Maidment, a homosexual man who opens up about his life, how the world has been changing and his opinions on the LGBTQ+ community!
In this week's release, Steve & Mike discuss whether someone is born gay or if there are other factors that can dictate sexuality, as well as discussing "Polari" – the "gay language" used when homosexuality was illegal, as well as Steve's youth work with Breakout & City Reach. They then go off on a tangent about names and whether or not they'd change their own names and if so, what to, followed by them getting back on topic and finishing off the talk by speaking about offensive pronouns, gender fluidity, how/if gender should play a role in contact sports (such as MMA), the treatment of women, how far society has come in the last 30 years and much more!
In part 1 (released last week), Steve detailed what it was like growing up gay in the 80s and when/how he realised he wasn't heterosexual (when at that time it wasn't discussed at all), bullying & acceptance, Steve's experiences in college and his coming out story to both his college friends and his parents and being worried about reputation/acceptance when doing so.
As well as the above, sexism, racism, bigotry, prejudice, equality, Brighton and "The Gay Agenda" are all also mentioned, so in case you missed it, be sure to check part 1 out!
The last episode of GCC had the return of our favourite palaeontologist/author Wayne Telford, along with Josh (the co-host of "Science, But Simple"), where they discuss religion & faith, along with some crazy land, water and extinct animals in another science-y addition of Genuine Chit-Chat!
Promo by The Comedy Cast!
Genuine Chit-Chat is now a part of the Brit Pod Scene, so be sure to check out the other members of the family as well as the BPS podcast – www.britpodscene.com
Instagram – Twitter – Facebook – YouTube – Stitcher - Podbean - Spotify
You can also email us at GenuineChitChat@outlook.com with any reviews, comments or suggestions.
Share
|
Download(

Loading

)